We undertake many different decking services in Nottingham & Derby and surrounding areas working with you from start to finish ensuring that the decking is built to your exact requirements.
All jobs will be bespoke to your needs and can be built at any angle, any shape, size and style and on any slope. Samples of decking, posts, spindles, rails etc can be provided along with a mock up of how the decking will look. Once you are happy with the design and the materials then we can start the work at a mutually convenient time.
All decking is built on secure concrete pads/breeze blocks with plastic rolls being laid down beforehand to stops weeds and any growth coming through.
We can fit hand rails, spindles, steps and/or disabled ramps. Special features can be incorporated into your decking making it unique to your tastes such as border effects up to fences or the house and lighting can be installed by a qualified electrician.
All wood is treated, comes with a choice of hardwood or softwood and can be stained to match fencing around your house or garden.
To ensure that we only use the best materials for your decking we have a business accounts with J A Stephens builders merchant, Travis Perkins and Brookes Brothers.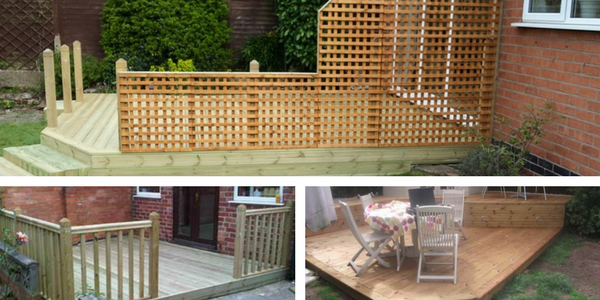 For decking quotes and further information then please contact Kevin at KM Joinery on 07866 540302 or email enquiries@km-joinery.co.uk providing your name and contact details and a brief description of your job specifications. We will aim to get back to you within 48 hours.